Located In Downtown DC
At Certo!, a commitment to craftsmanship guides everything we do, from our handmade artisan pastas and wood-fired pizzas, to the welcoming hospitality we extend to our guests. Our décor takes inspiration from 1920s New York, with a large bar area, chef's counter, and multiple dining areas. No matter the occasion, Certo! believes in simple preparations that showcase the light, fresh flavors of Italy alongside seasonal ingredients from local farms.
Lead Bartender Lauren Mathews
A native of Pittsburgh, PA, Lauren Mathews began her hospitality career working for Big Y Group, a collection of restaurant and bar concepts based in Pittsburgh. There, she sharpened her knowledge of wine, champagne, and cocktails while learning to deliver fine-dining service in high-volume restaurants.
In 2014, Mathews joined the bar team at Meat & Potatoes where she learned the rich history of classic cocktails and developed a deeper understanding of bartending culture. For two years, she honed her skills behind the bar, creating balanced cocktails and infusing spirits and syrups in house. In 2016, she accepted a bartending position at The Commoner at the Kimpton Hotel Monaco Pittsburgh. Drawing inspiration from her travels and culinary experiences, she expanded her cocktail aesthetic to include clarified juices and unexpected ingredients like yogurt.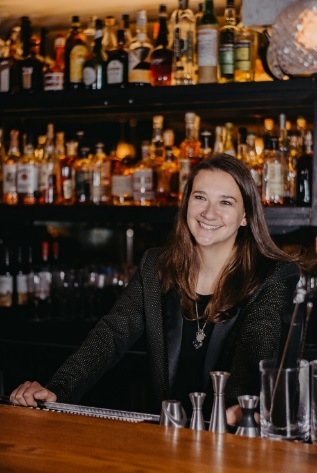 When Mathews moved to Washington, D.C. in 2018 to be the lead bartender, she brought her passion for connecting with guests and drive for creating artful cocktails. Her bar talents showcase the Italian restaurant's rooftop garden with whimsical garnishes created from the day's harvest and include reimagined classics like a Bee's Knees made with house limoncello.